How to access to the ATS, and to the Jobs
💡 If you want to understand how to access your offers and candidate pipelines from the Welcome to the Jungle Solutions homepage, this article is for you!
🔒 Please not that some features described below are available for specific plans. If you'd like to know more, drop us a line on the support widget!
⛵

Navigate within our recruitment solution
From the home page, you can access to the solution & choose to access directly to
Application management

Job offers
You can also access is from the banner on the left side. (see screenshot)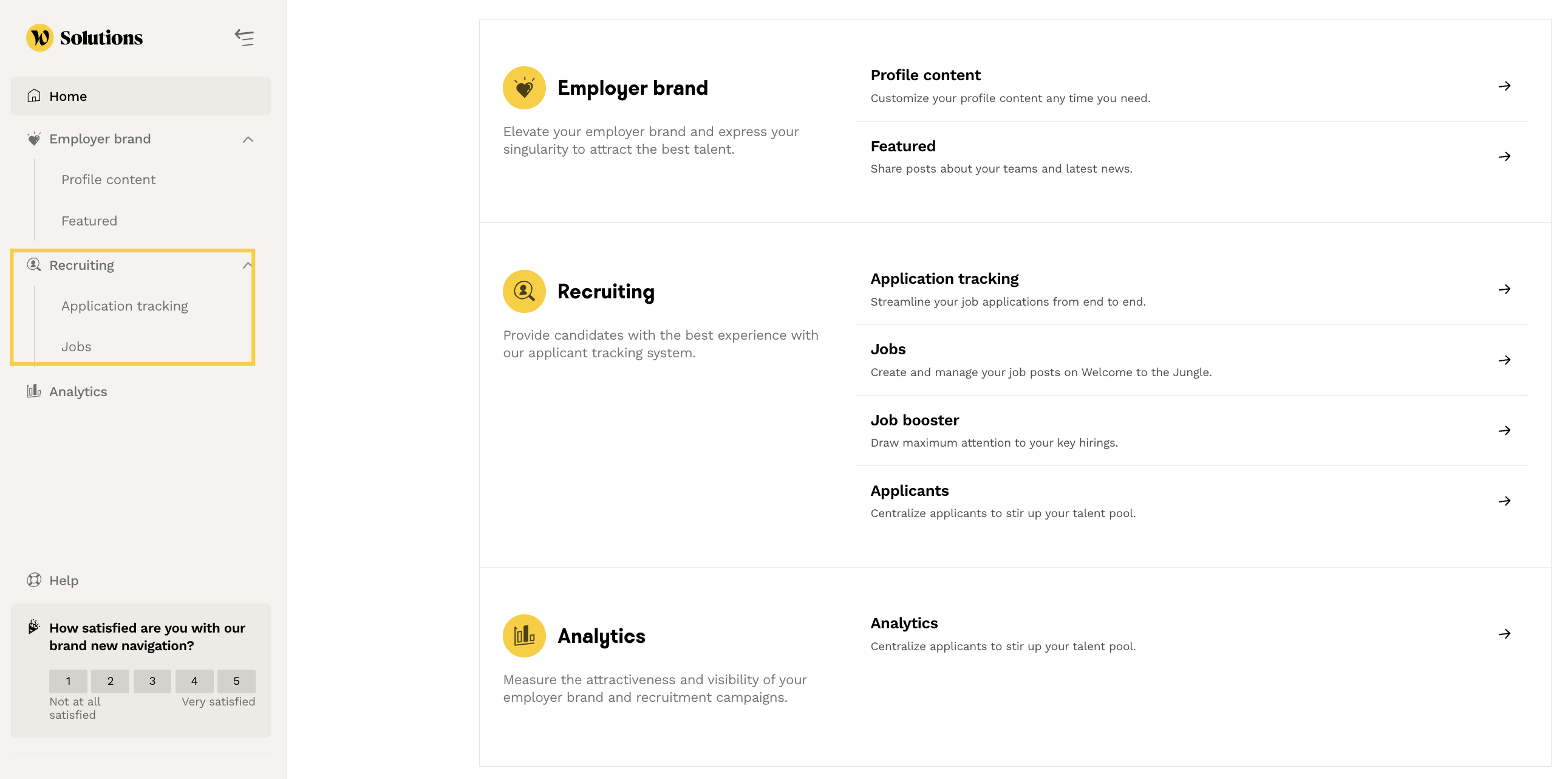 💡 If you want to earn time, you can access directly to the Job booster features, and to your candidates pool from the home page.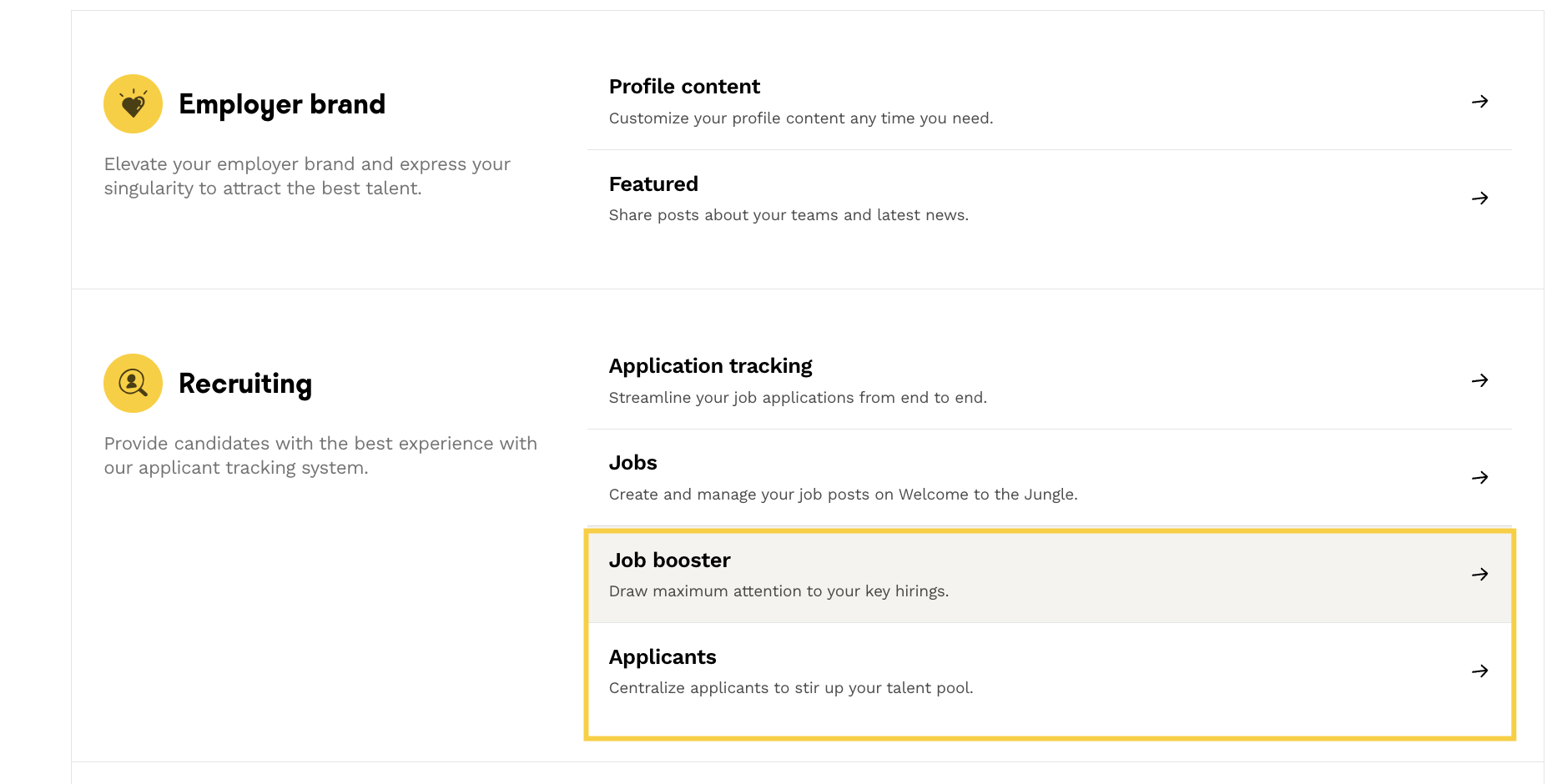 👣 Application tracking section
The ATS dashboard
When you click on "Application mangement", you'll directly access to the dashboard of the ATS where you can access to all of the applications coming from WTTJ, your career website, or any job board.
If you use our ATS, this dashboard is essential to you. From there you can create, modify & update your offers, & understand how they perform with one view .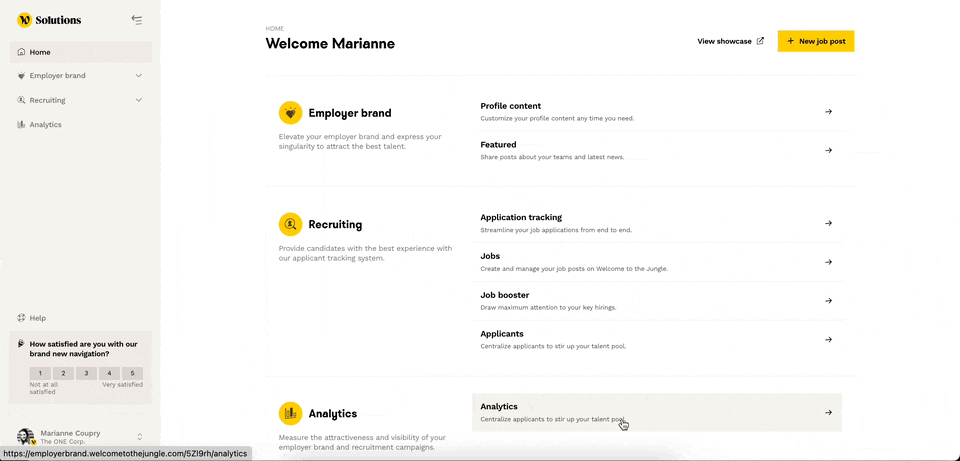 The "application Tracking" section is to be used if you wish to manage your candidate pipelines and process new applications or modify your ATS settings.
💡 If you'd like to find out more about how our ATS works and how to manage your candidate pipelines, feel free to check out our dedicated section right here!
🗒️ The job offer section
The "Job offers" section redirects you to a space with 2 tabs.
One that brings together all your job offers published on your Welcome to the Jungle showcase, and the other that drives you to the Job booster feature: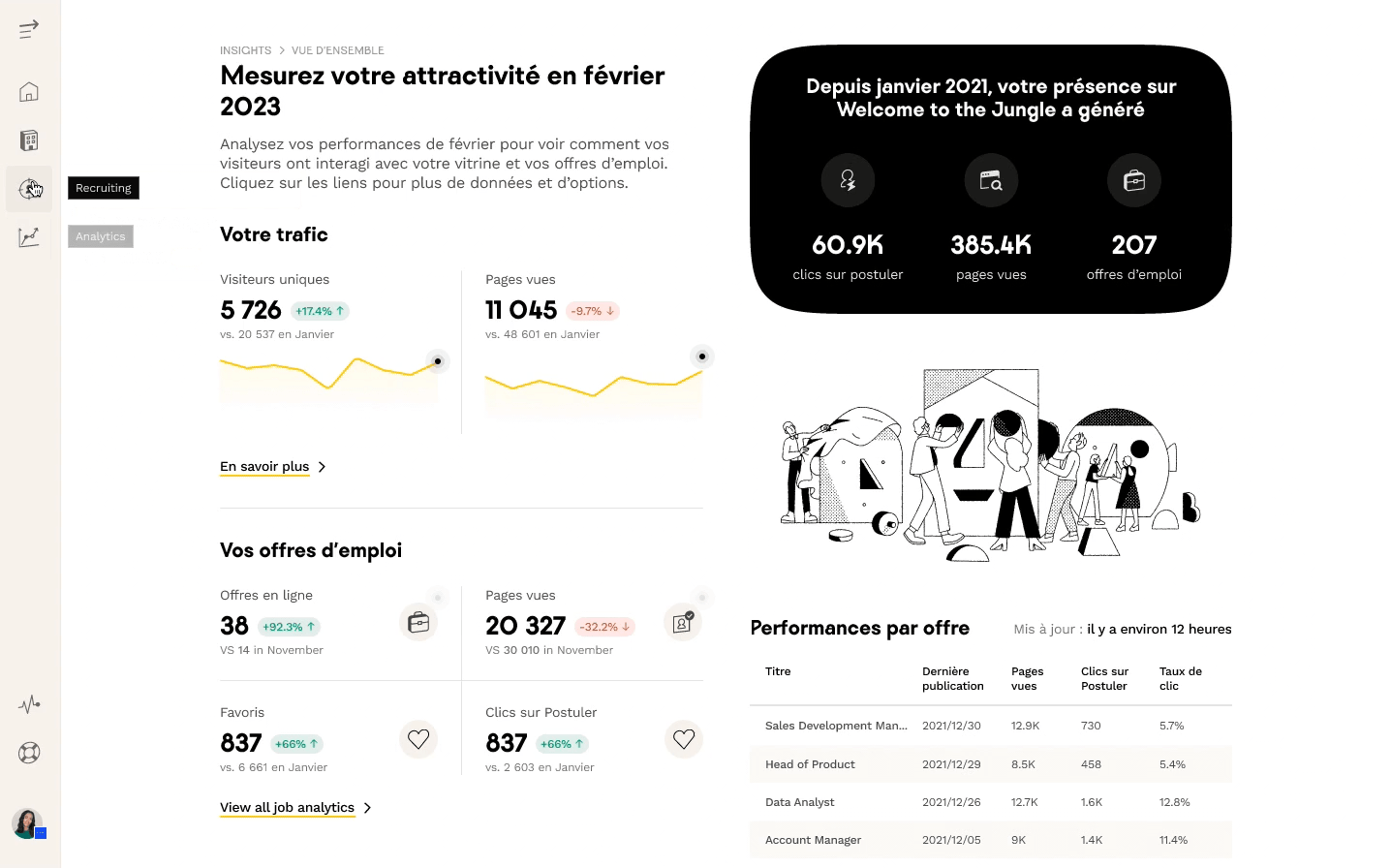 The job index
The "job index" tab provides valuable information on your published offers, and allows you to quickly modify them if needed.
For companies using Welcome to the Jungle's ATS, it is possible to create a new job offer directly using the yellow "new offer" button at the top right of the list :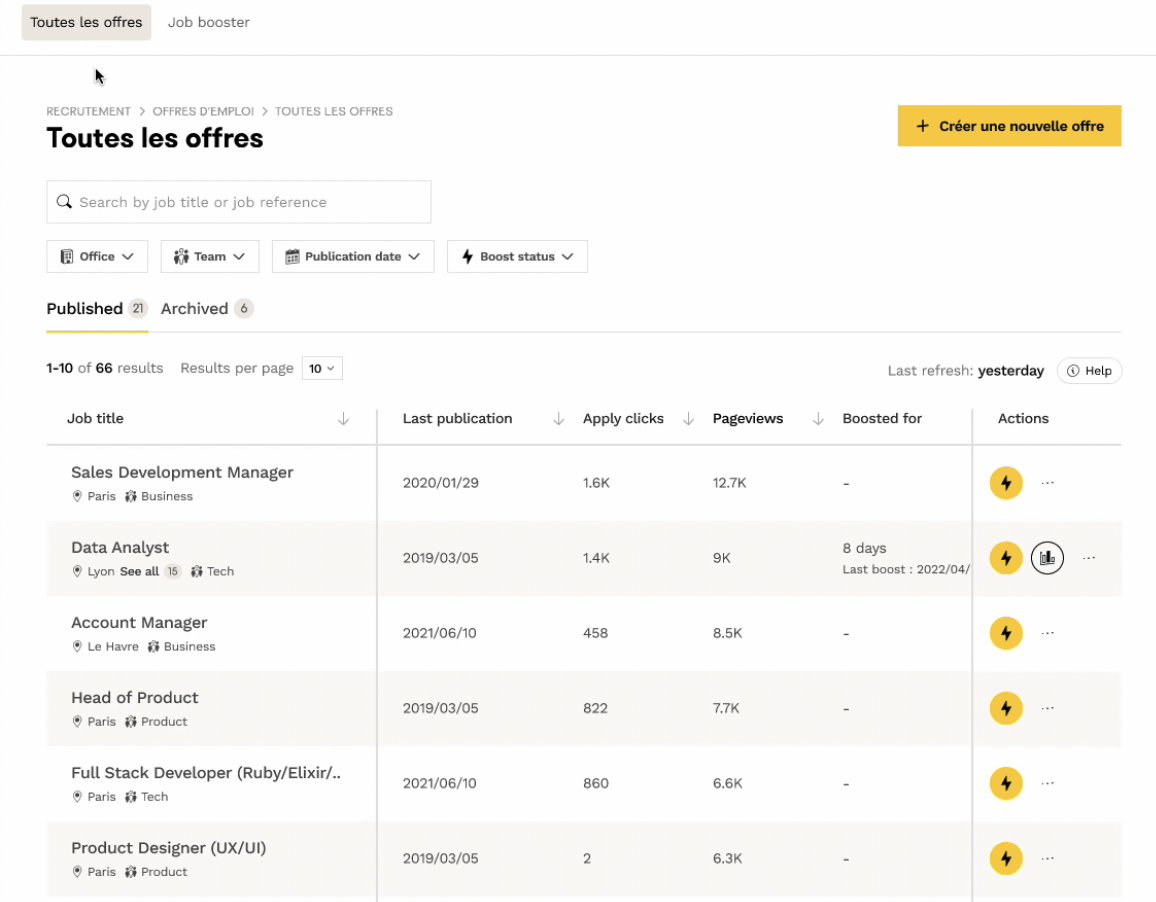 Each line gives you access to data on published offers: publication date, number of clicks, number of views, Boost dates.
If you wish to activate a Boost, you can click on the yellow button with the lightning bolt.
⚠️ To be able to boost an offer, you must be "Manager" for the Job booster product. If you'd like to find out more about the different roles available on our solutions, please read this article!


Boost your job offers
The job booster tab allows you to access to the details of the boost included in your plan. You can verify how many boost you still have, and manage their performances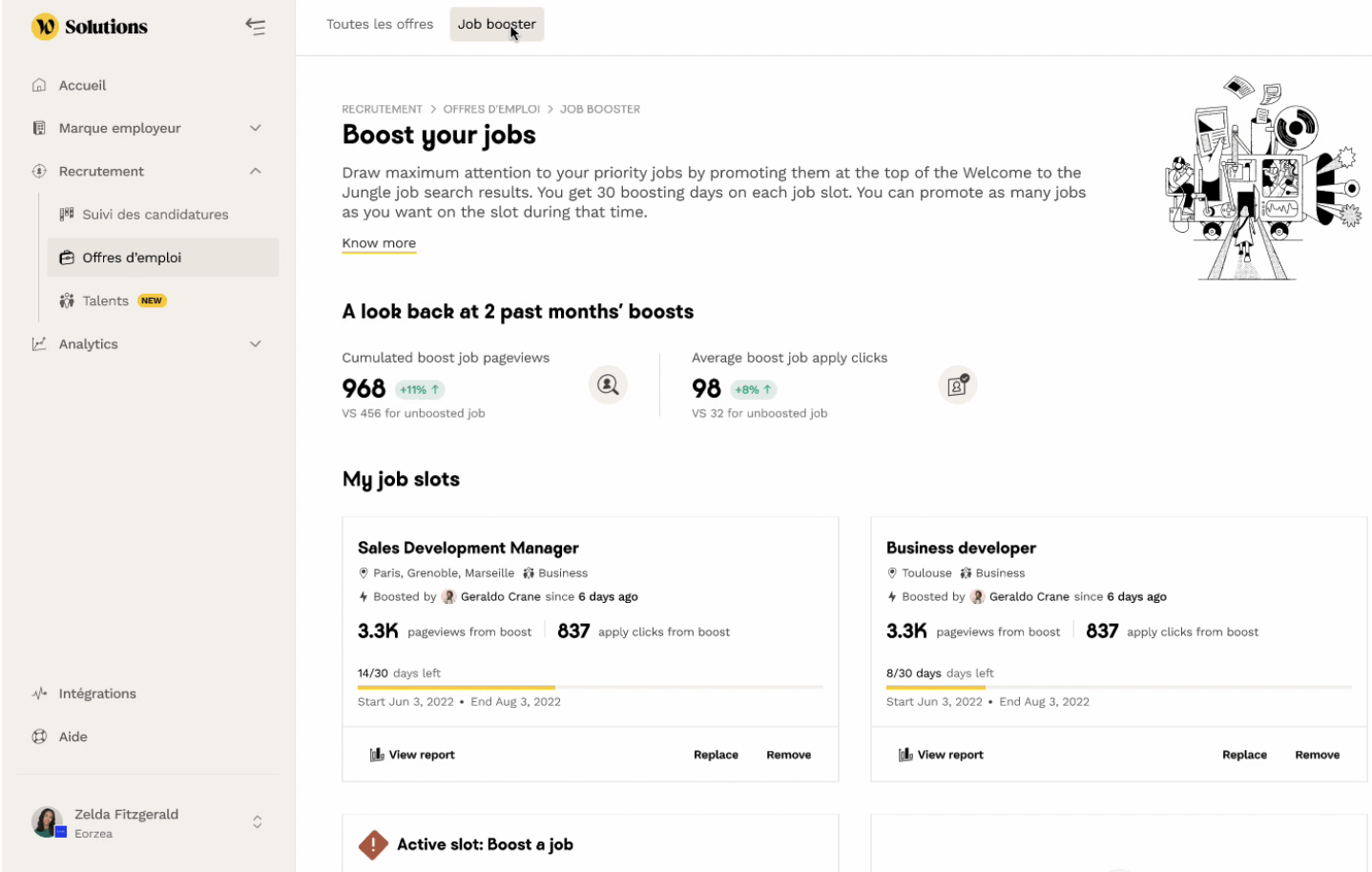 🆘 If you have any questions, you can contact us on the widget assistance.