🔒 This feature accessible only for certain type of subscription plan. If you don't have access to this feature, and you would like to discuss with our sales team to update your subscription, write us on the support widget!
💡 If you want to step up your Welcome to the Jungle profile and boost your Employer Brand with the Featured tab, this article is for you!
👀 What's the Featured tab?
First, let us introduce you to this new tool: Featured allows you to create hot content on your profile. Your company has received a new award, organized fundraiser or a team building? Thanks to Featured, you can create your own posts and share them directly on your profile.
This feature gives you access to a dedicated text editor tool from your Admin space where you can create posts, articles or share recent news about your company. You are free to choose the content you want to share and the publications will be visible directly on your profile in the " Featured " tab: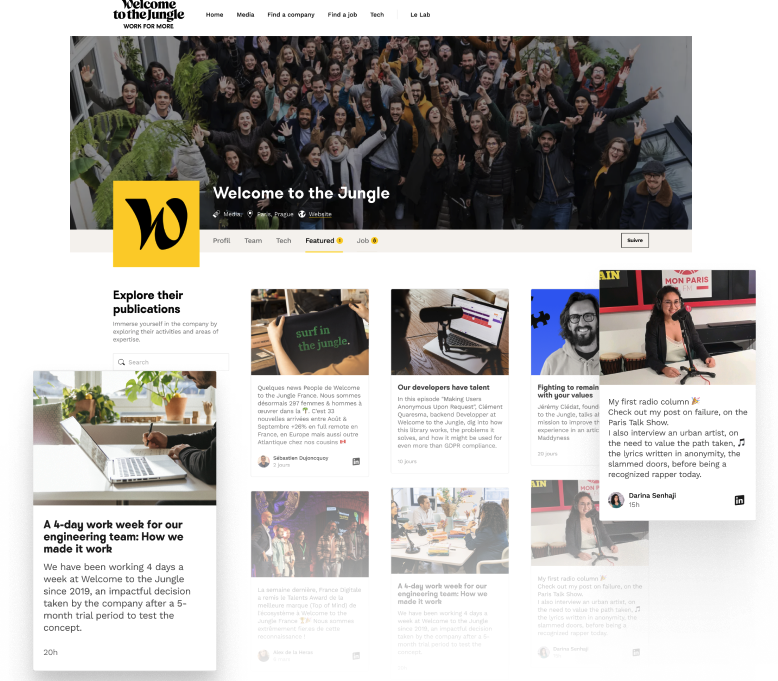 The best news? There is no posting limit! They will appear from the most recent to the oldest, the candidates will be able to scroll through your Feature tab to view all of your posts.
Ready to get started? Here's how to create a new publication using Featured!
📝 Create and add a new publication to your Featured tab
How to access Featured
To create a new post in Featured , you must go to your Employer brand Space and click on the "Featured" button: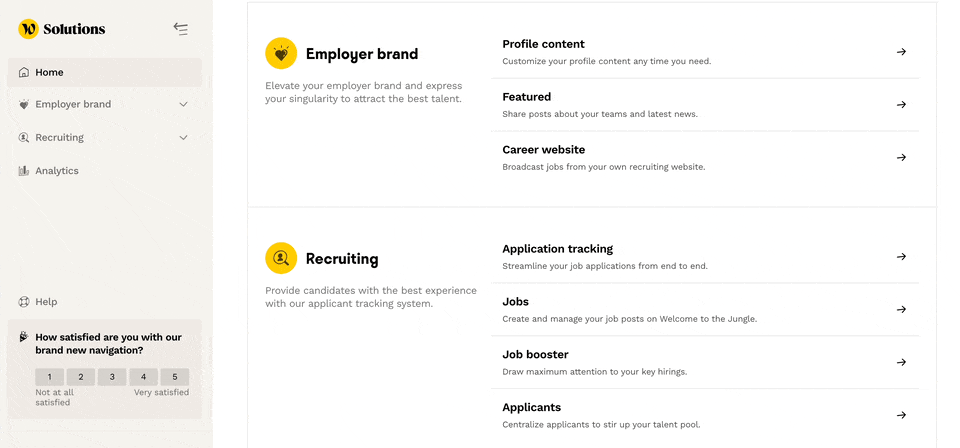 ⚠️ If you don't see the Featured panel on your Employer brand space, you probably haven't unlocked your accesses yet! Don't panic, we'll show you how in this article!
Create a new post
Once on the page, you have access to several features to customize your publications: you can add texts, pictures or even external links to other articles or publications.

Once your publication is ready, simply click on "Publish".
View your publication on Welcome to the Jungle
Once published, your new post will be instantly visible on your "Featured" tab.
A tiny "1" will appear to the left of the tab to notify candidates that new content is available:

This mention disappears if your last republication was 3 months ago! We advise you to publish content regularly to attract traffic to your profile and make it more active and attractive for your future candidates.
🪄A few tips for writing your future posts
Featured is designed in the same way as a social network, the objective is to share your company's news through short publications of about ten lines.
Of course, you can create longer articles to present a specific profession, or an aspect of your company that you want to develop or highlight. Here are some examples of publications to inspire you!
Now that you know all about Featured, we look forward to reading your future posts!
🆘 If you still have questions or doubts, you can contact us via the chat widget on the button right, or via our contact form at this link