Which role to assign to each new member 👨🍳
💡 If you want to understand which role is the right one for each person in your organisation, this article is for you!
⚠️ This article is intended only for users with the Administrator or People Manager roles who can manage access for other employees from the Admin Space.
🧠 Understanding roles and statuses
From the Welcome to the Jungle administration centre, you will be able to add all your colleagues!
To add a colleague on a product, nothing could be easier, it is done in two steps!
You will first add the email address on your organization
Then, in a second step, add them to the products they need to use
Each person who will be added will be assigned access to your organization on the Welcome to the Jungle suite, as well as access to a particular role on the specific products used by the organization.
🔮 Discover the different roles
Roles at the Organisation level
There are three roles at the organisation level. Each member is by default a Collaborator and three hats can be added to the collaborator status:
Administrator
People manager
Billing manager
The product explains perfectly the permissions of each one ⤵️

Roles in Welcome to the Jungle Solutions ATS
There are currently three roles in Welcome to the Jungle Solutions ATS:
Administrator
Member
Restricted Member
👉 Pssst, this article gives you all the information you need to know which status to open in Welcome to the Jungle Solution : ATS to protect the confidentiality of the data.
The roles in Employer Branding
Manager: gives access to Analytics and Featured
Roles for Job booster
Manager : has the power to activate a Job Booster
User: has the power to modify the Job Booster from one offer to another and to access the activity report
Viewer: can only access the Boost report and see the boosted jobs

👀 Add new members
Add members to your organization and products
To give access to a new member to our products and your organization, nothing could be easier:
Go to the Admin Space
Click on the "Members" tab on the left of the screen
Click on the yellow "+ Add Member" button
Fill in the email address of the new member
Choose the role to be given at the "organization" level
Choose his access and roles for each of our products
This gif shows you the different steps!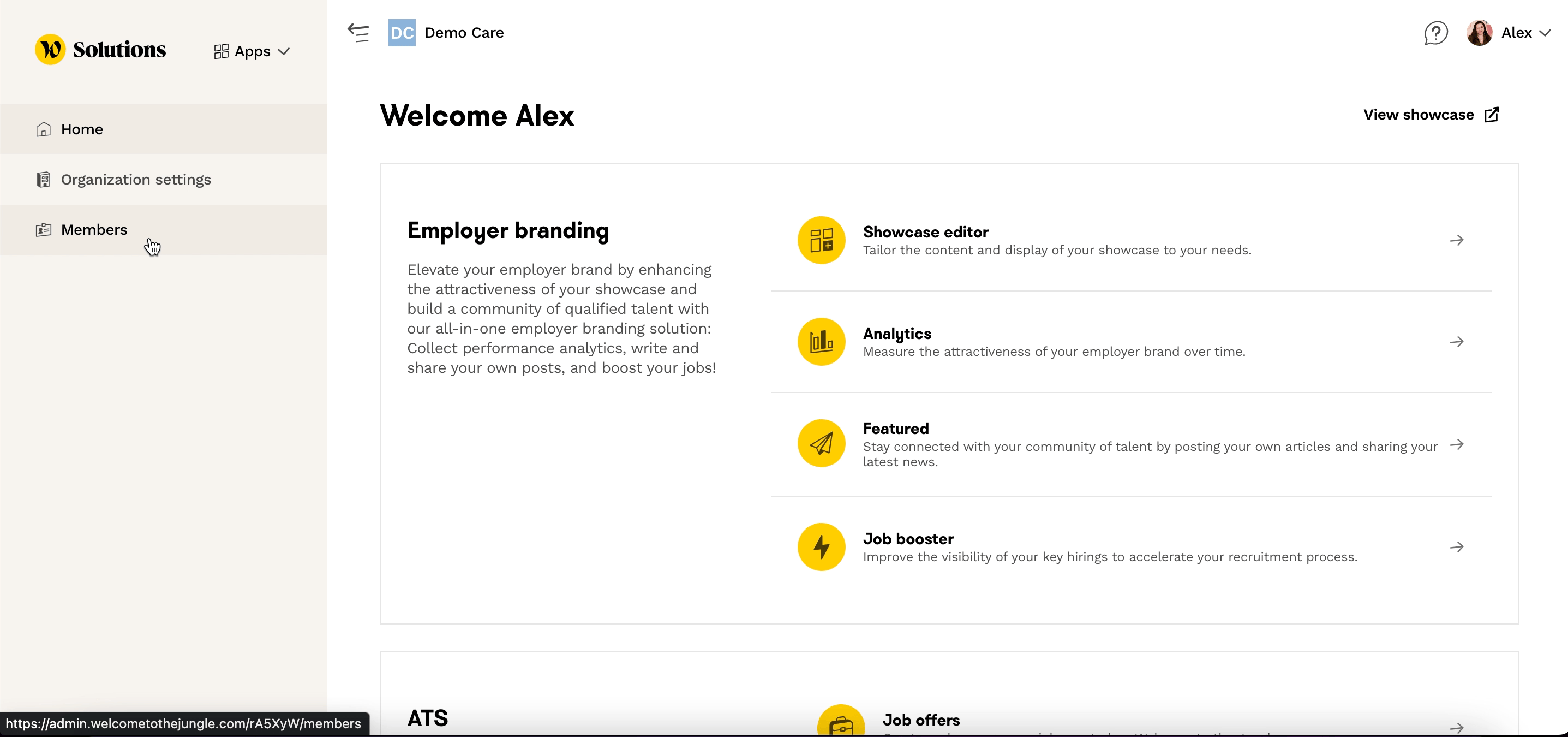 On the side of your employees
As soon as you have sent the invitation, an email will be sent to the employee concerned. The screenshot below shows you the invitation that is sent: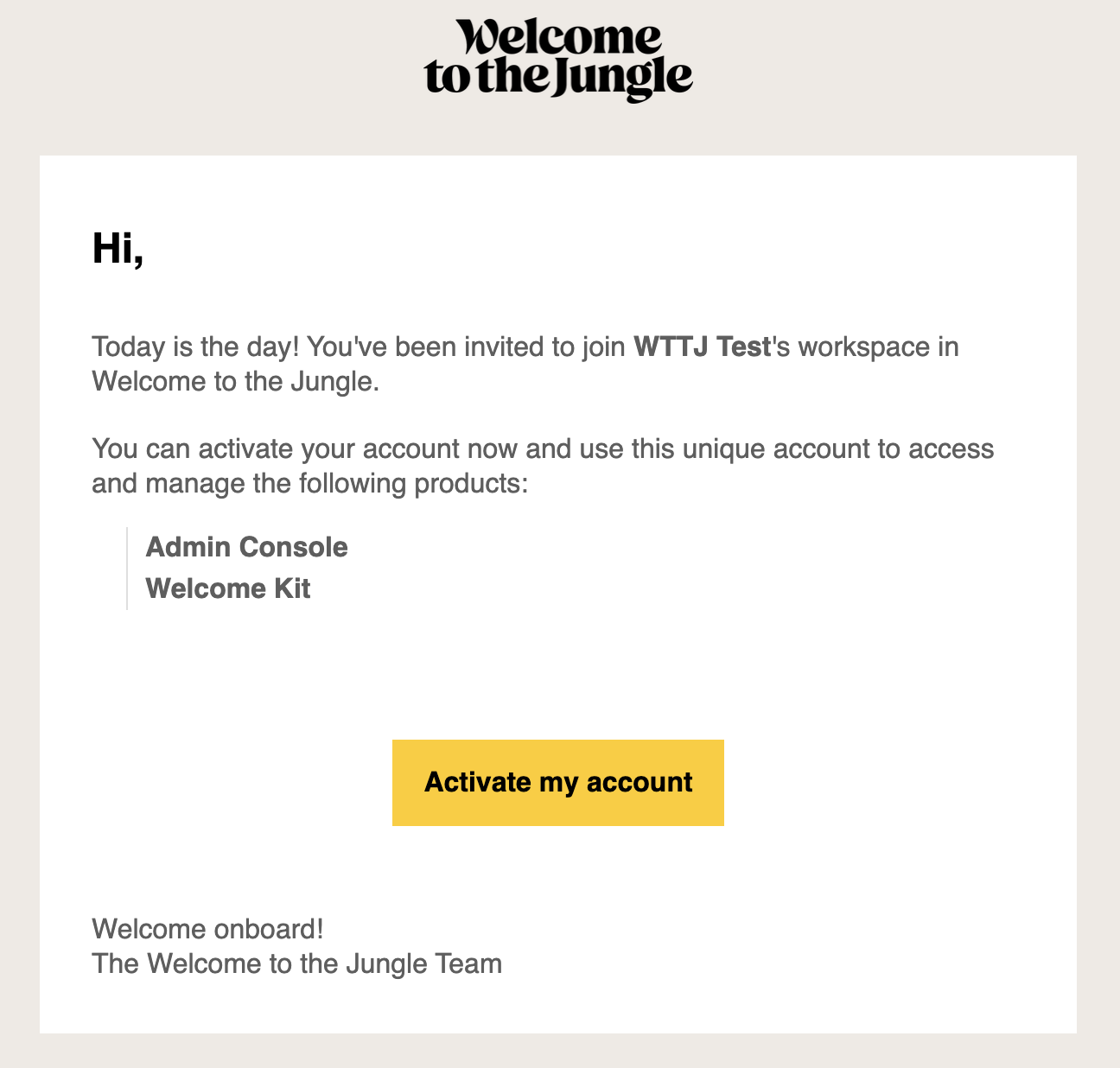 Your collaborator will have to accept the invitation, and will then be redirected to the administration centre, which will ask him/her to accept the T&Cs and confidentiality clauses, and to take note of the products to which the company has given him/her access: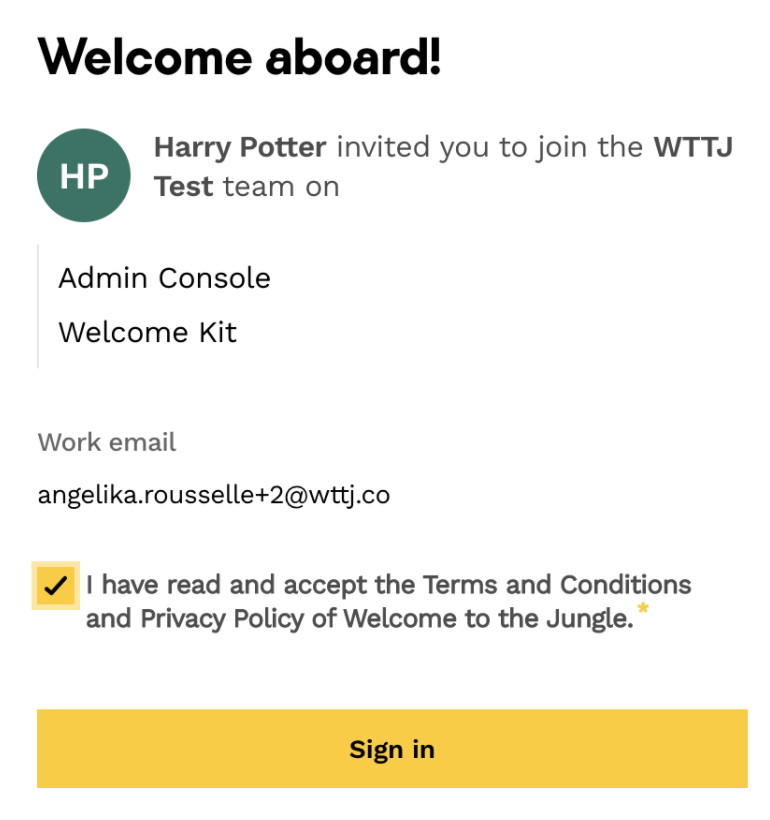 And there you go... the trick is done 👏 !
🆘 If you have any further questions, you can contact us on the support widget at the bottom right, or on the contact form at this link