Communicate with your candidates 💌
💡 If you want to learn of communicate best with the candidates who apply to your offers, this article is for you !
1 - Exchange emails with candidates
A. Send an email form WTTJ Solutions ATS
Communicate with candidates from Welcome to the Jungle Solutions ATS is very easy.
To send an email to a candidate, go to Welcome to the Jungle Solutions ATS, open the application and click on the email tab.
You can write down your email in the dedicated field and click on the yellow button "Send to applicant".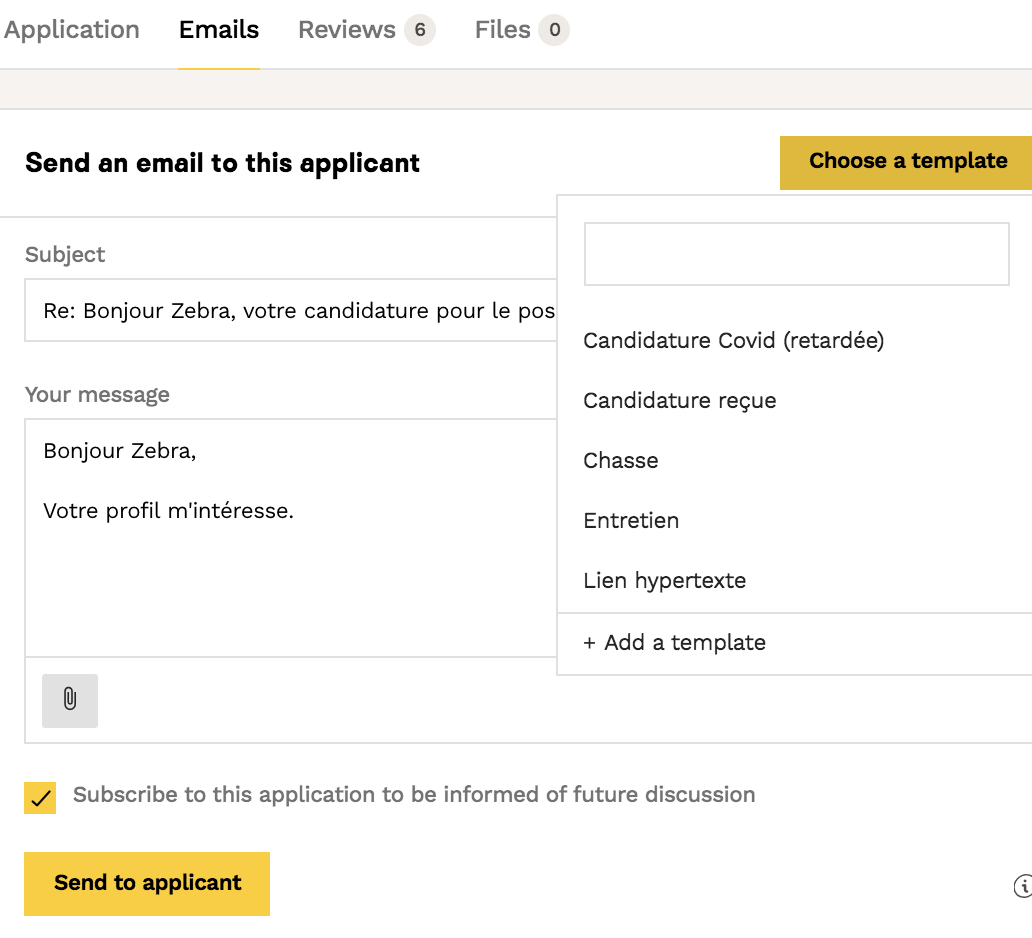 Every recruiters who can access to the offer can jump in the conversation, and also send new email, modify the subject, send a template or a personalized email, and move the candidate from one stage to another.
B. Get notified of exchanges with candidates
Sending an email to a candidate automatically assigns the recruiter to the application. When sending the first email, the default checkbox is checked: "Assign me to this application to be notified of future emails". It is entirely possible to uncheck it.
When a candidate responds, you receive an email notification and you can read the conversation directly from your inbox (gmail on screenshot below).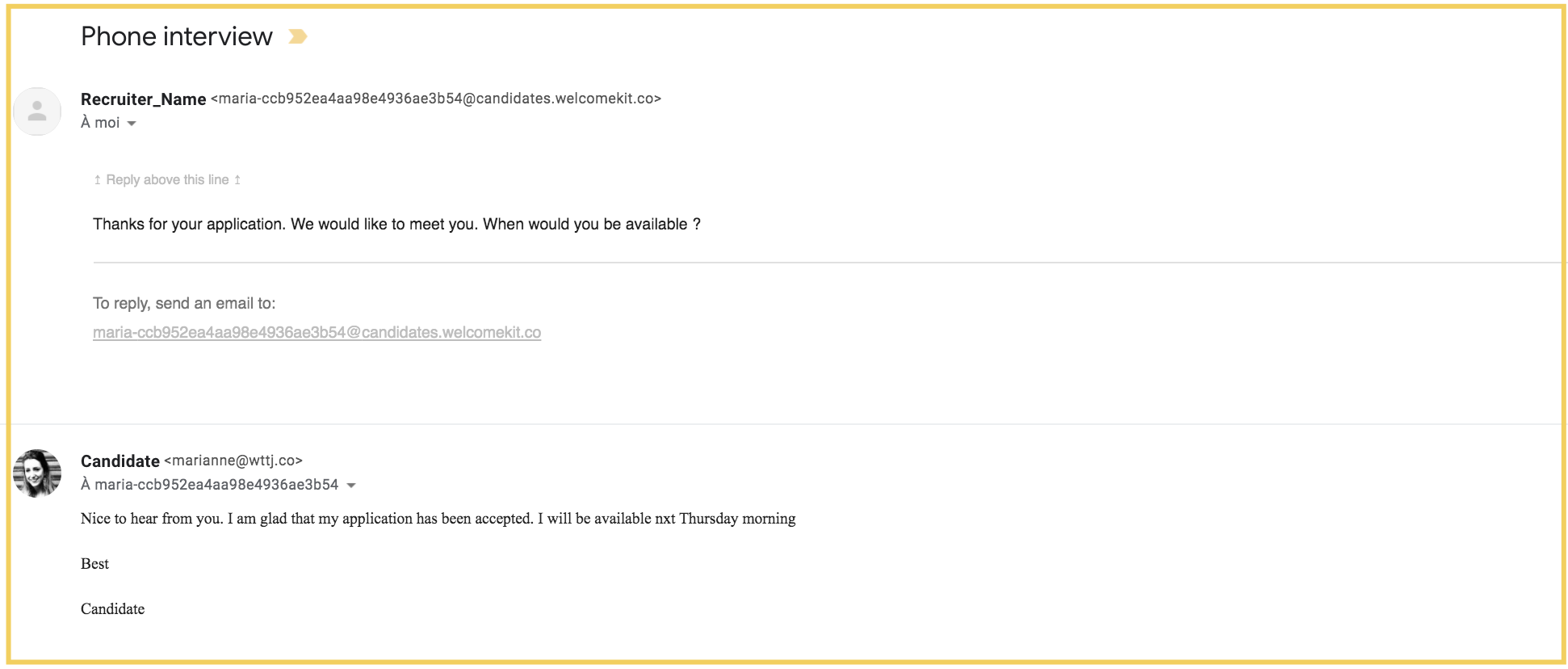 2 - Take care of your message templates
Message templates will make you save time allowing you to customize the subject and content of your message according to the candidates.
A. Organise your templates
To access Email Templates, go to the Settings tabs and click on Email templates.
2 existing email templates are programed to be sent in 2 precise cases. They can be modified.

The Automatic mail is sent when applications arrive in Welcome to the Jungle Solutions ATS. It can be disabled.

The "Default rejection email" is sent when you use the feature "Reject and send an email".

You can create as many template as you want :
⚠️ Note that they are common to all members of your organization. For better management, we recommend that you adopt a clear and precise nomenclature shared by all.
- For example you can start to rename it with : Yes or No, depending on the next steps
#No_CV ; #No_Case_Study ; #No_Interview ; #Yes_Meeting ; #Yes_Phone_Call ; #No_Hired_Recently...


- For example, each recruiter can create its proper templates : #Hermione_No_Screening ; #Harry_Yes_Interview...
B. Best practices
Share the link to your Welcome to the Jungle profile! Indeed, this profile is a very good tool to help candidates prepare their interviews. We advise you in all possible mail templates to encourage candidates to visit it. To include a hypertext link (text pointing to a URL), you will need to put the text in square brackets [text] and attach the URL to which the text points in brackets (http://mon-url.com) without any spaces.

Use Markdown syntax! This will allow you to highlight key elements of your development, in bold, italics... (For more information, see this article).


To display an image, or a GIF, you must host it on Internet and then use the following format, which contains no spaces.
Use variables! In addition to saving time, the use of variables will allow you to ensure that your email is personalized for ever candidate. Below are the different variables you can use!

3 - On the candidate's side
We show you here how is the conversation happening for a candidate. He can talk with the recruiter from his Welcome to the Jungle space or from his mailbox.
A. On Welcome to the Jungle account
A candidate can review his application on his space, see the status assigned to it, receive and send emails. The GIF below is an overview of this space: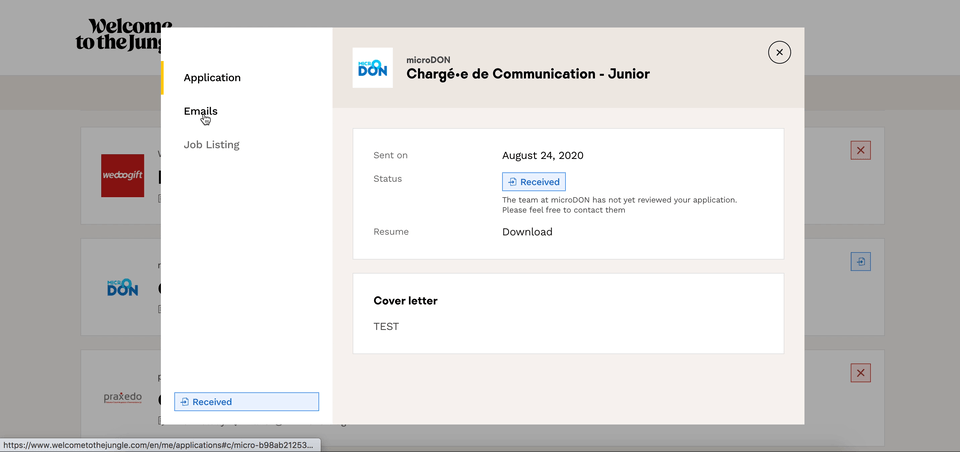 B. From his/her mailbox
The screenshot below also presents the overview of a candidate.
As you can see : the candidate doesn't access to the recruiter's personal email address. It's completely encrypted. The name and surname that the candidate can see correspond to any personal information from the recruiter that can be modified within his personal settings.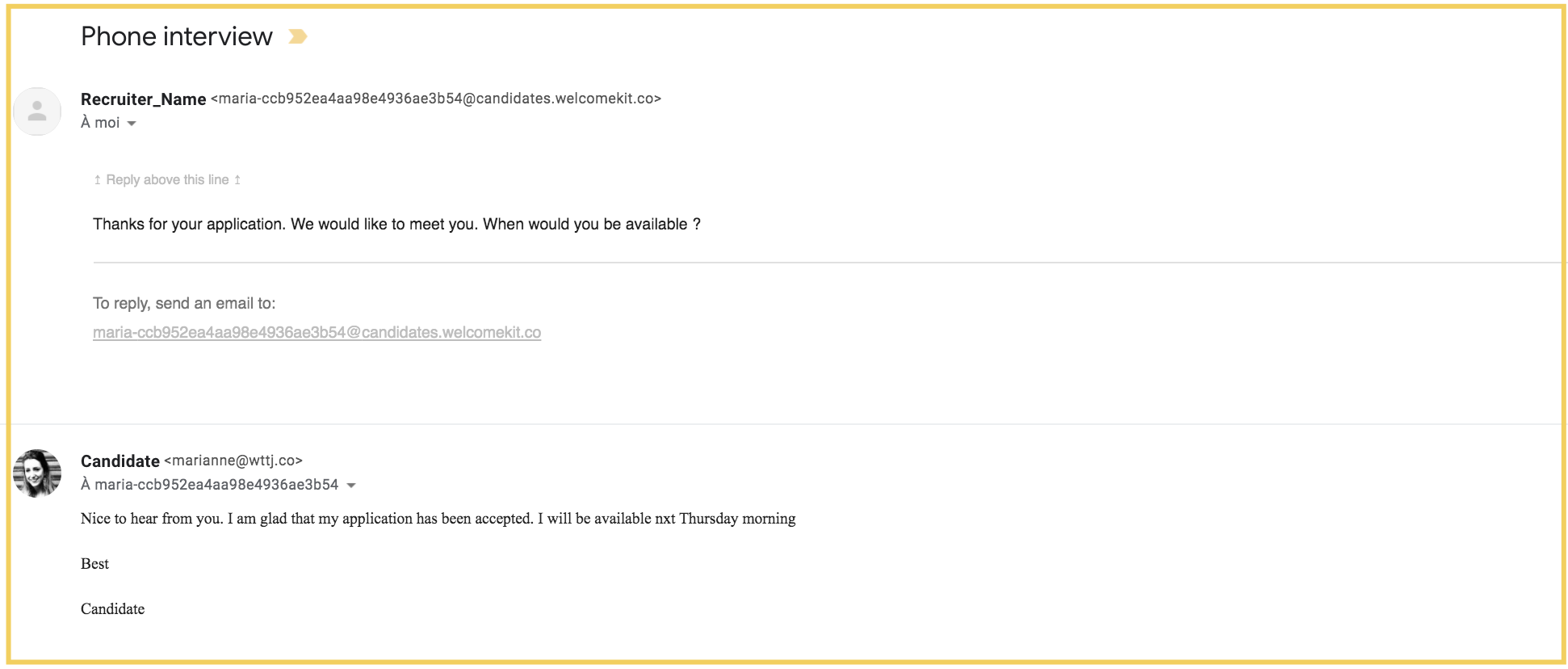 🆘
If you still have questions or doubts, you can contact us via the chat widget on the button right, or via our contact form
at this link