Treat multiple applications fast 🏃🏽‍♀️
💡 If you want to optimize the time you spend on application processing, this article is for you!
1 - Move candidates in the pipeline
There are 3 ways to make candidates evolve in your pipeline.
A. Drag & Drop a candidate's card
The easiest way to move a candidate to another stage is to drag & drop the candidate card into the next column.
Each candidates deserves to receive an update on his application. This is why we advice you to personnalise your candidate pipeline, and send email to your candidates when they move in the pipeline.
In order to sort quickly candidates, you should setup a voting system with recruiters concerned to make candidates move quickly from a stage to another. Find more info in this article.
💡 If you want to wait a few days before the candidate gets notified that his application has been refused you can use the column "to refuse"!
B. Use Bulk Actions to move several candidates
( 🔒 Please note that this feature is not available for all the type of plans )
Bulk actions will allow you to select several candidates at once and realize a similar action for all. Here are the possible bulk actions on Welcome to the Jungle Solutions ATS : Comment, Archive, Send email, Move stage.
To use bulk actions, you should enter an offer, and click on the grey "Bulk actions" button, and select the action you wish to perform.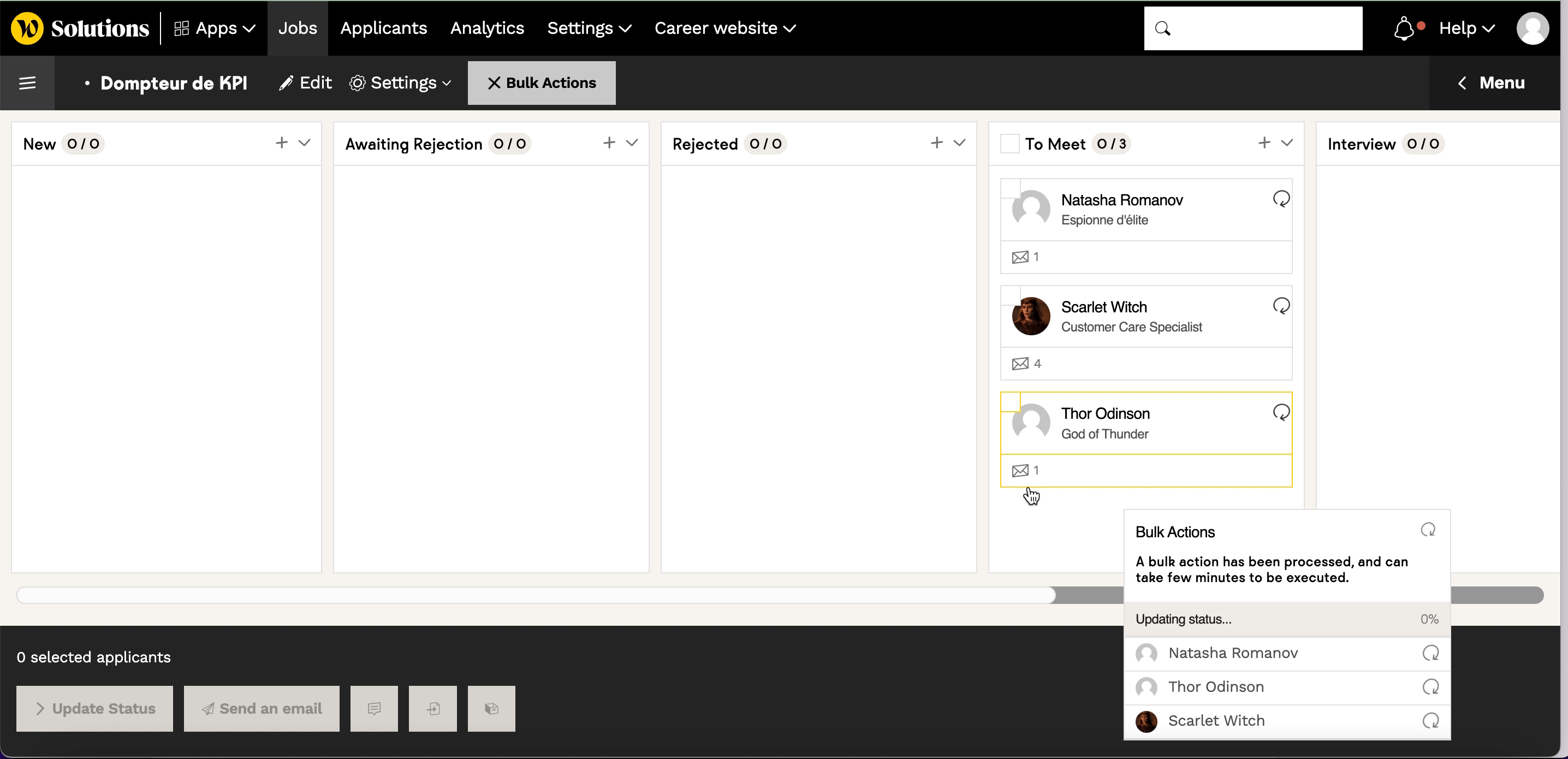 💡 To create your template, go to the Settings > Email template:

C. Move the stage of an application
You can also move an application from a stage to another.
To do so, click on the actual status of the application (in Yellow) and select the right status in the dropdown menu
💡 Since no email is automatically sent when a candidate is rejected, we propose you to use this alternative solution to make sure you don't forget anyone: reject and send an email to a candidate.(See the screenshot below)
Welcome Kit will will propose you an email template that you can edit every time before confirming the sending.

2 - Meanwhile in the candidate's workspace
Candidates can access to some information about their application's. Four statues are visible to the candidates from their WTTJ workspace linked to the default columns visible on each Welcome Kit job offer:
🚨 We remain convinced that these automatic notifications are not enough for a successful candidate experience within your organisation.
Received

- This label is what the candidate sees when his application has just been sent and has not yet been opened by any recruiter. At the same time, he receives an automatic email confirming that their application has been received. To modify it, go to the settings, email template, automatic email.

Refused & Hired are the two precise labels communicated to the candidates (See GIF below). This status are associated to the 2 columns by default that you cannot move.⚠️ This is why before moving a candidate in one of those stages we strongly recommend you to adress them an email.
Being Processed - This last label is presented to candidates to indicate them that the application has been opened, and is being processed. This label will appear for every stage different from HIRED & REFUSED. Ie- If one of your stage is called "case study" - it won't appear on the candidate's workspace.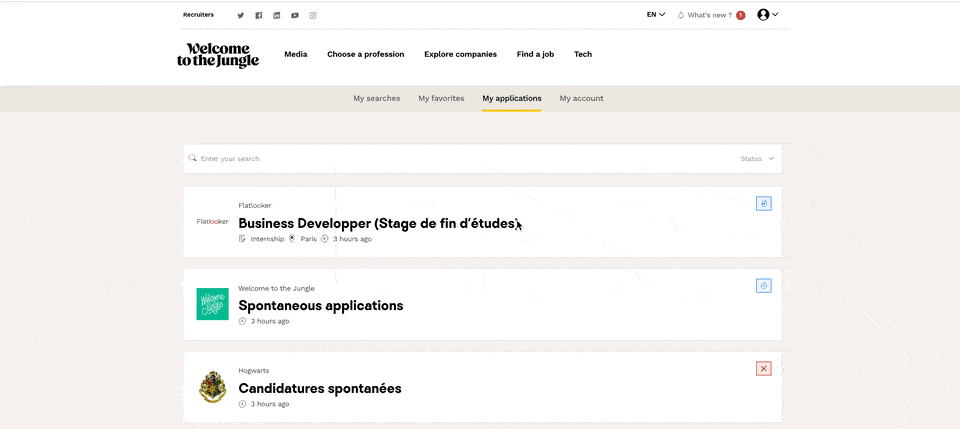 🆘 If you still have questions or doubts, you can contact us via the chat widget on the button right, or via our contact form at this link