Open new applications in Welcome Kit 🛫
You have different ways to open new applications on Welcome Kit.
⚠️ Please note that it is not possible to receive an email for every new application.
1 - Consult new applications from Welcome Kit
A - Sort by offer
The most common approach is to log in to Welcome Kit, and click on the offers that interest you to open new applications. The number indicated on the right of the job's card "To review" is the number of applications in the "New" column.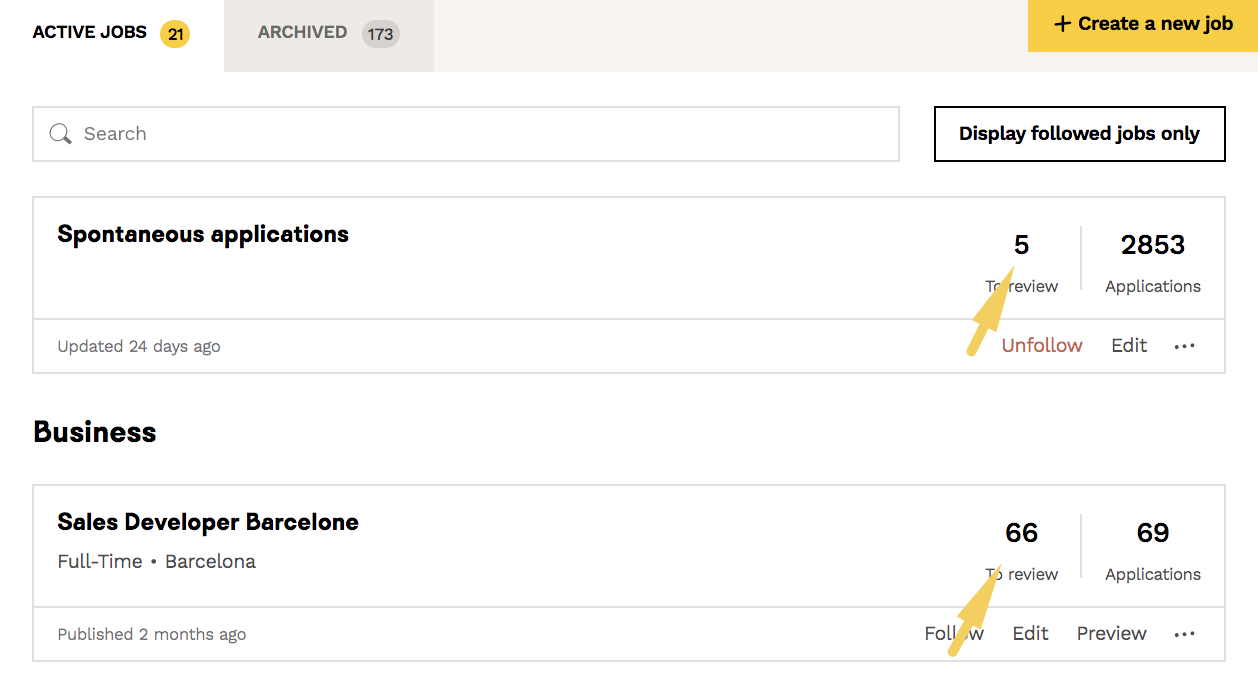 In this example there are 66 applications to open
B - From notifications in the dashboard

As soon as you connect to Welcome Kit, the red bell in the top right corner of the dashboard informs you of unread events that concern you (new application on a job posting you are following, candidates you are following moved from one column to another, comments on applications, etc.).
C - Search in the applicant's tab
There is an ultimate way to view all new applications from Welcome Kit :
Go to the Applicants tab on your dashboard, and use the "Status" filter and select the "New card".
This overview is very useful to anticipate the workload if you need to screen all of the new applications on your own.
💡 Please click on this link to discover how to treat many applications in a minute.

2 - How to be notified of new applications out of Welcome Kit
A - By e-mail
Each recruiter can set up to receive a daily summary of all activity on job postings over the last 24 hours, including new applications.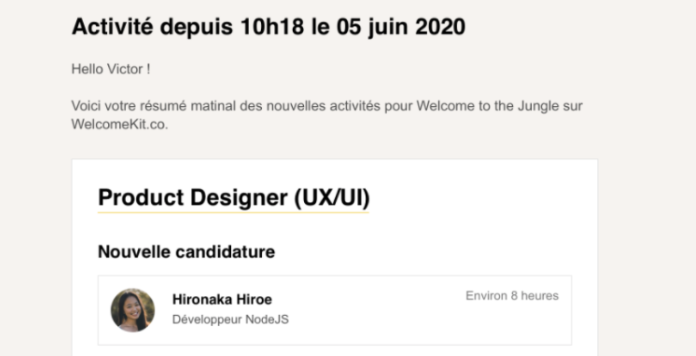 ⚠️ If you no longer want to receive this morning recap, go to your own settings, and check the box "Never receive summary email".
B - On
Slack
If you would like to be notified in real time of all applications and events, you can set up a Slack integration by clicking on your company logo at the top left: Organization Settings > Integrations

To create one channel per offer the procedure is as follows:
Click on New Integration to set up the Slack integration on your different channels.
Link the notifications of each offer to the channel concerned via point 4.2. External services of the offer edition form.
🆘 If you have any further questions, you can contact us on the support widget at the bottom right!