💡 Among the 14,000 offers that appear on Welcome to the Jungle on a daily basis, you need to take the time to write a job offer that will stand out and attract the right talent.
1 - Some advice to write your job offers

2 - Create and edit a job offer on Welcome Kit
Write and re-write your offers from your WK dashboard
1/ To create a job offer
Go to Jobs > Click on Create a new job and fill in mandatory fields, as in the tutorial below.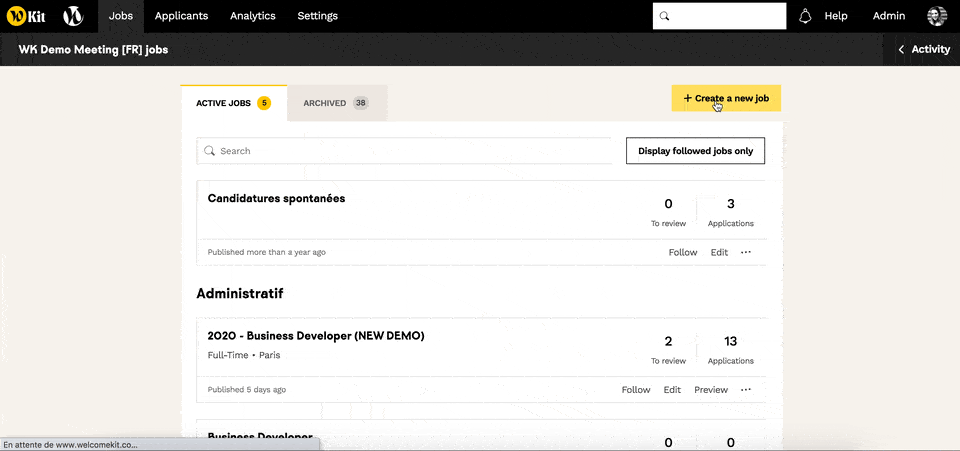 2/ To edit an existing offer
Go to your Welcome Kit dashboard; find your offer and click on Edit

3/ To emphasize what's most important in your job descriptions
Use the syntaxe Markdown to style your text.
💡 Find below a quick Syntax guide (for more info click here)
If you want

bold

letters, just place the letters between two asterisks (stars) with no spaces:

**This will be in bold**

.

For italics

, put the text between underscore symbols with no spaces:

_I want this text to be in italics_

.

To insert a link, put the text you want to link into brackets and the URL in parentheses with no spaces between them: [Welcome to the Jungle](https://www.welcometothejungle.com)
You can also add title using double hashtag symbol followed by a space and your text ## De Finibus Bonorum et Malorum
⚠️ There is a space

between the # sign and the first word.
Work with your team on the writing of the offer
We are convinced that the step of writing an offer is a key moment in the recruitment process, and that the writing of a job offer has to go through these steps : a need, a first draft, a brainstorm with the management, and to finish, a final reading with the team to make sure that the job description comports the key elements to help candidates prepare well their application.
Welcome Kit being a collaborative tool , an offer saved as a draft can be edited by anyone who has Admin or Simple member role.
🆘 If you have any further questions, you can contact us on the support widget at the bottom right!