The candidate path on Welcome to the Jungle 👣
💡 The purpose of this article is to put you from the candidate's point of view, when he.she looks for a job offer on Welcome to the Jungle, applies for it, and receives an answer from recruiters.
1- Searching for a job offer
On Welcome to the Jungle
A candidate can search on Welcome to the Jungle for offers directly using filters like salary, contract type, job title, additional terms and conditions.
📹 This short video illustrates a candidate's search for jobs on WTTJ.
On a company's career site
When a candidate searches directly on a company's career site, the search is faster depending on the number of offers.
📷 This screenshot illustrates the search for jobs on a career site.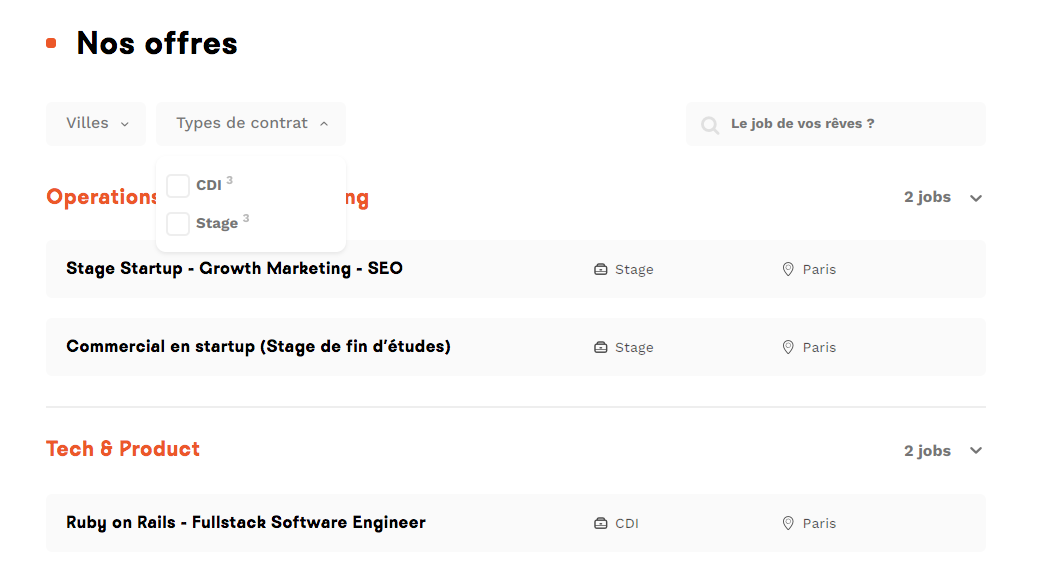 2- Sending and following up an application on a Welcome to the Jungle form
Sending an application and follow-up from the candidate's workspace
Once the candidate has found a job offer to apply to on WTTJ or on a career site, he.she will be invited to fill in several pieces of information some being mandatory.
📹This capture represent the candidate application form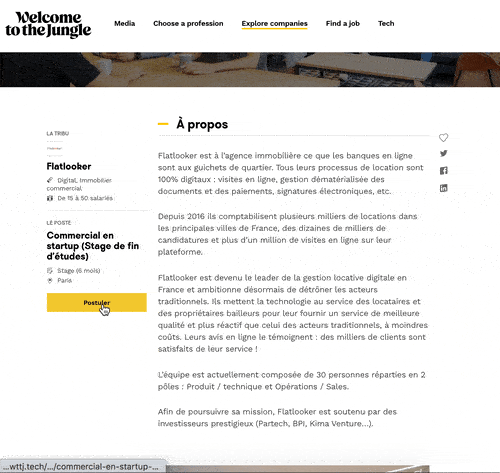 Once the application has been sent, if the organisation uses Welcome Kit, the candidate receives an automatic email to confirm reception.
Candidates on Welcome to the Jungle can access a dedicated space to manage all their applications, view email answers from recruiters and follow how they advance in the recruiting pipeline.
From within Welcome Kit, once the application has been opened by a recruiter, the status changes from "received" to "in progress".
⚠️ If the candidate is moved to the "rejected" column in Welcome Kit, it will also be applied to the offer in the candidate personal space in Welcome to the Jungle. This is why it is essential to inform candidates of the progress of their application all along your recruitment process.
Discover our application processing guide with these articles.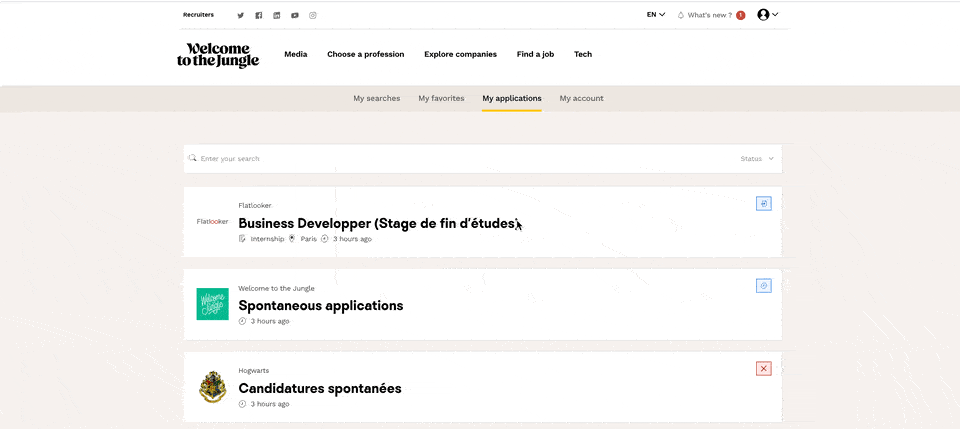 Recruiters and candidates can exchange messages from their respective dashboards and spaces but everything is also sent to the accounts related email address.
Management of personal data
A candidate can ask companies to delete personal data by sending an email to this address: privacy@wttj.co, or directly to the recruiter with whom he.she was in contact with . You can consult our legal section and privacy policy clicking here.
3 - Behavior of a potential candidate on standby on the platform
A candidate can be actively searching for a job or just keeping an occasional eye on the candidate personal space.
Candidates have the possibility to save searches on the platform, and choose to be notified by email.

Welcome to the Jungle also sends out a bi-weekly newsletter to candidates having an account on Welcome to the Jungle. This newsletter gathers the latest & best articles published on our media.
It also highlights companies that are recruiting and some job offers.


🌴Jungle Inspiration 🌴

🆘
If you have any further questions, you can contact us on the support widget at the bottom right!