Treat each application equally on the ATS ⚖️
💡 This article guides you through the key rules for processing applications !
🔒 Please note, this article refers to several features limited to certain subscriptions. If you want to talk with our sales team to update your subscription, write us on the support widget!
Today, the recruitment process must be seen as a key step in developing your own employer brand. Companies should have in mind that during the whole recruitment process candidates are just like prospects. The equal treatment of applications is one essential part of Employer Branding.
Some companies recently experienced the suspicion of having potentially discriminatory practices. These news spread very quickly on social media and once it is known, it affects considerably employer branding.
In order to ensure that each application receives the same treatment, without any discrimination it is essential to establish some clear rules for processing applications before using Welcome to the Jungle Solutions ATS and to teach them to all departments having access to Welcome to the Jungle Solutions ATS.
1 - Create a common evaluation grid for all candidates
In order to guide recruiters in the processing of applications the tool allows you to create an evaluation grid based on specific criteria, and to weight them according to their importance.You can configure this grid either to be common to all offers, or to customize it for a given offer.
This grid has several advantages:
It allows recruiters to structure their evaluation and verify that the key values of the company are also true for candidates.
It reinforces equity in the treatment of different applications even if recruiters' mind differs making sure that common prerequisites for all hires will be respected.
It will be very useful for the structuring of constructive feedback to rejected candidates.
Before establishing this grid we recommend that several teams of your company brainstorm together on these required qualities for future chosen candidates.
Once this grid is finalized go to the Settings > Evaluation Criteria and set them up. You can also add and personalize the criteria for each job, going into the edition form of this specific job.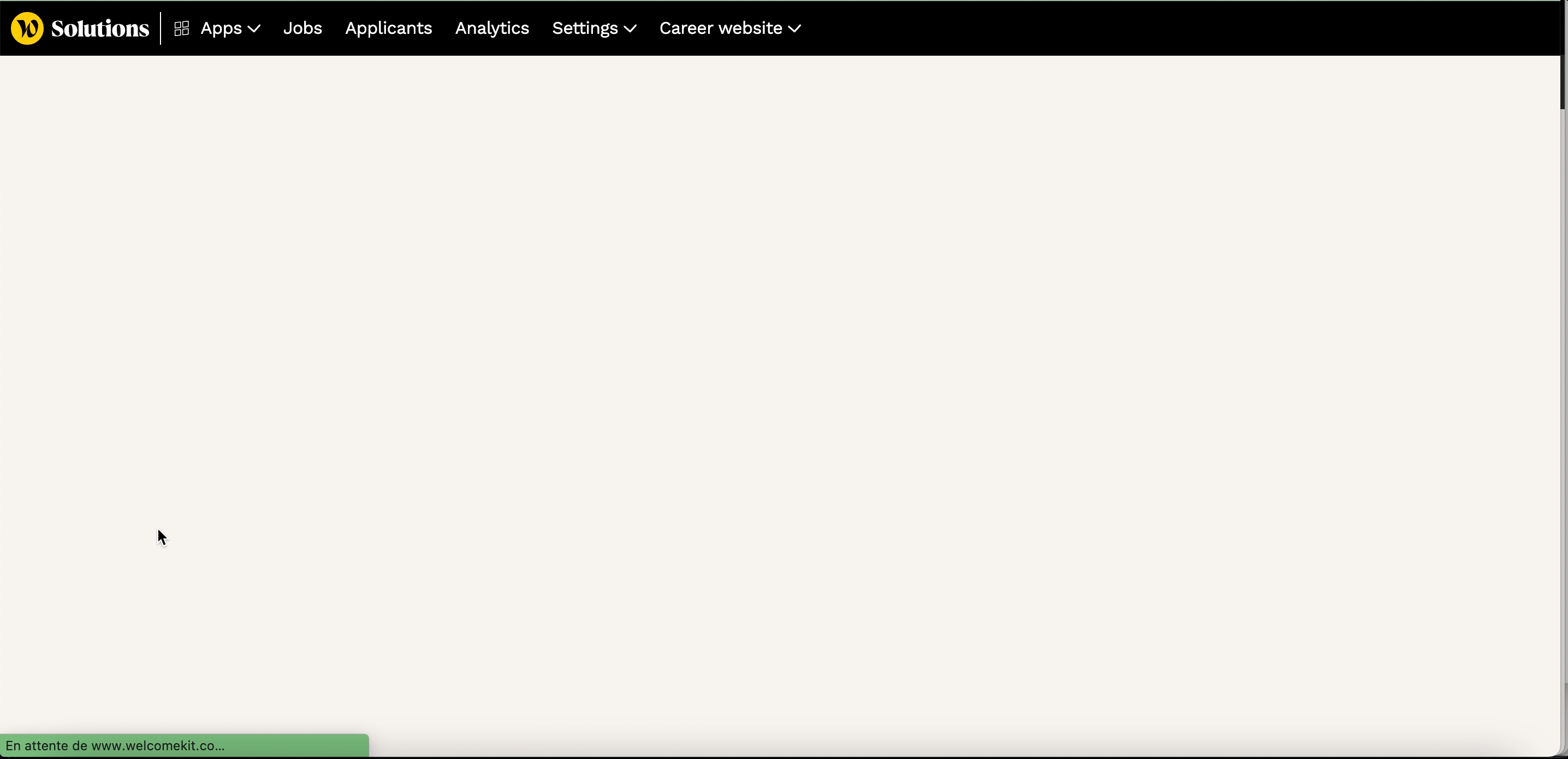 2 - Set interview reports, votes and tags on candidate cards
Welcome to the Jungle Solutions ATS allows you to take notes during interviews, write comments, vote, and tag candidates. It is important to establish within your team the rules and habits.
Reviews and Comments 💬
The shape of notes taken during interviews can be uniform if the questions asked are harmonized according to the recruitment teams.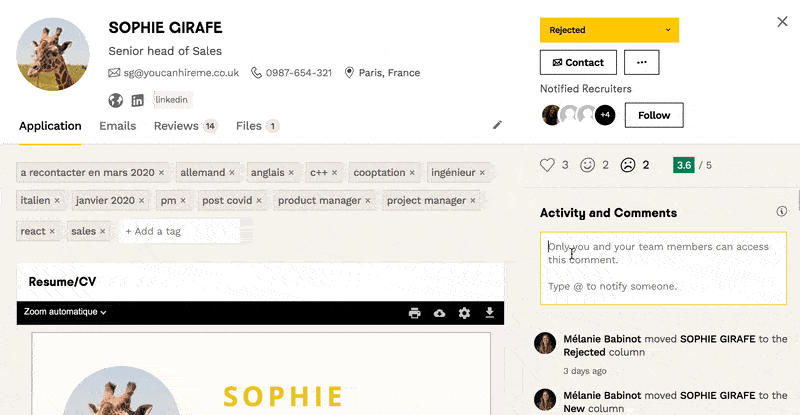 The comment workspace also allows recruiters to interact with each other.
⚠️ The comment fields on the candidate page as well as the evaluation criteria must be used responsibly: excessive, inappropriate, outrageous or even insulting references should not be used!
Votes 😀 🙁 ❤️
To standardize the screening of resume and to help you deal with the first steps of your recruiting process, Welcome to the Jungle Solutions ATS allows you to quickly add your opinion on an application in one click with emojis.
To add your opinion on a candidate card, nothing easier than a vote to recommend/not recommend, or "love" an application.
In the event of an identical judgement by the whole team, next step is quickly acted upon, and the candidate can be moved to the next column.
On the contrary, if several recruiters express a positive opinion and others do not recommend the application , a written and/or oral exchange will be necessary to confront your points of view. We invite you to train all your recruiters on candidate votes and decide together which votes should have an impact on the candidate recruitment path.
To vote, go to a Candidate card > In the top right greyed part > Click on the emoji of your choice.
Tags 🏷️
The use of tags in Welcome to the Jungle Solutions ATS is very easy. It is recommended that you establish what you will use tags for before using them with your teams.
Build your pool of candidates (#languages, #stacks, #value...)
Tag some "To Be Contacted Later" applications (#September2020)
Build your recruiting KPIs (#Cooptation, #Team, #hunting)
To add a tag, go to a Candidate card > In the Application tab > Add a tag.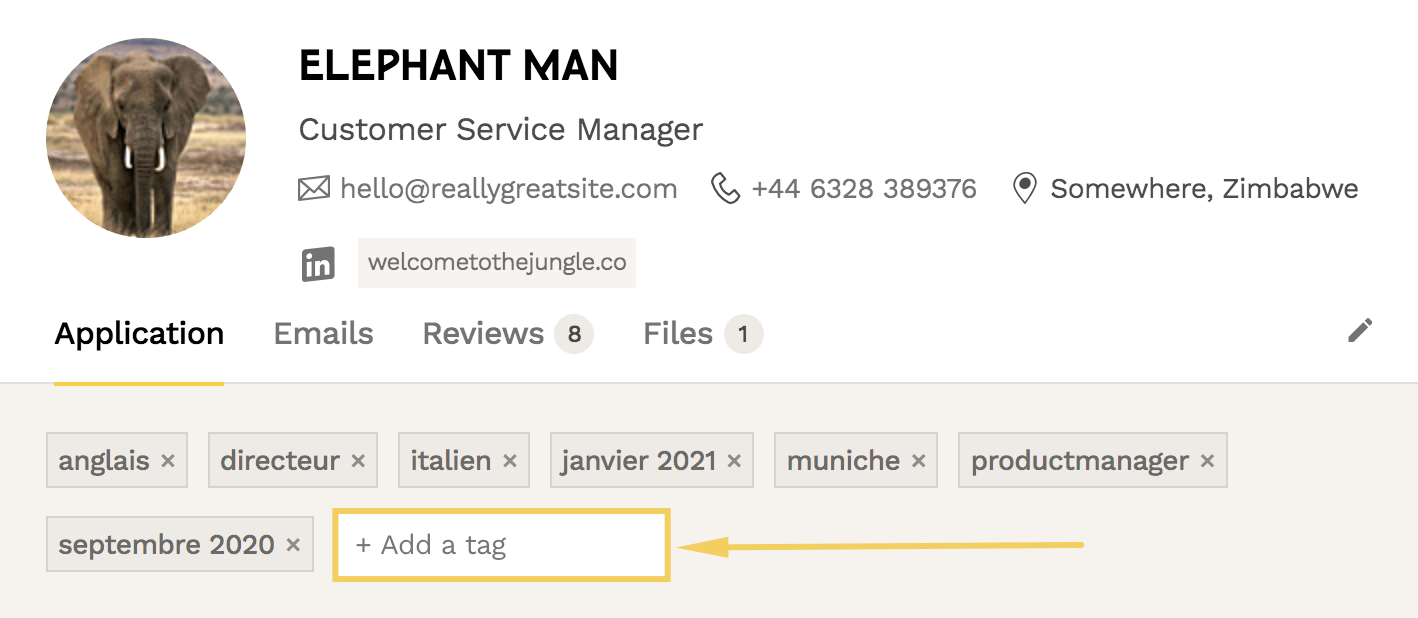 3 - Establish the conditions of response for all applications
Every company must ensure an optimal rate and response time for its candidates. Welcome to the Jungle Solutions ATS's customization allows you to set up templates for rejection emails, appointments, and to use multiple actions to encourage such treatment.
Welcome to the Jungle Solutions ATS also allows the follow-up of these statistics, by offers and recruiters.
Answer rate
Every company should be able to boast a 100% response rate to its applicants.
"If we have not contacted you within three weeks, please consider that we unfortunately do not follow up on your application".
We advocate that this type of acknowledgement of received applications be banned on Welcome to the Jungle Solutions ATS, as each application deserves a response.
💡 Never forget that candidates are as important as prospects
Response time
A candidate who applies for an offer is usually actively looking for a job, and is waiting for a quick response from the companies in which he or she is applying. Welcome to the Jungle Solutions ATS is designed to let you process these applications quickly using Kanban design.

We recommend that you process applications on a day-to-day basis and send an initial response no later than 7 days after receiving an application, indicating what the next steps are.
🆘 If you still have questions or doubts, you can contact us via the chat widget on the button right, or via our contact form at this link