Setup authorisations and open access to your collaborators 🔑
💡 Now that you signed the DPA, solved your payment, organised your offers, you should take some time to think about which recruiter will be involved in your recruiting process before inviting them to join your ATS. This article will explain you how!
1 - Discover the 3 possible roles on Welcome to the Jungle Solutions : ATS
🔐 Admin: can do everything in the tool
🔑 Standard User: can do everything apart from
manage billing

open permissions for other members

create a career website (if you want to know more about career website, jump to the "Build your recruiting process" section )
🔒 Restricted User:
can only view the application pipeline for jobs on which they are a recruiter

cannot create a new job

cannot edit the content in an existing job
⚠️ A restricted user will access all the applications linked to the job offer(s) where he was assigned, even if some applications are archived in the candidates tab.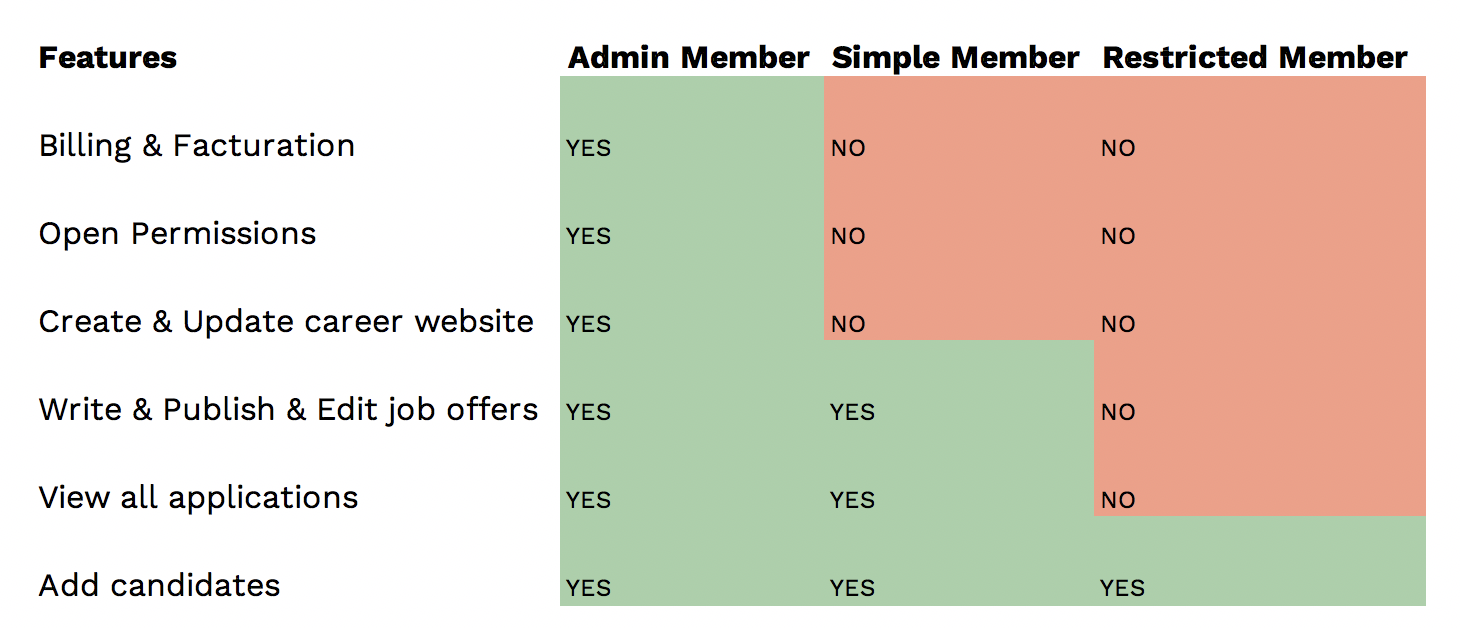 2 - Determine the role for each recruiter
What do you want the user to access to ? You should think about every collaborator that will access your ATS. You have an unlimited number of ATS' licenses, so no need to restreint yourself on any autorisation. Are the Human Ressources team the only ones that can post job offers ? Do you want them to open access to manager when needed ?
If you want them to post job offers they should at least have the standard user role.
If you want them to open access to managers / members, you should grant them the admin role
If you have a small HR team, and you want to keep the control on what happens on the tool and limit view on applications due to GDPR reasons, you can select restricted access to new users. Restricted users will only have access to job pipelines they are assigned to.
💡 We recommend you to have at least 2 admin members, in case of holidays (...) - Welcome to the Jungle teams cannot grant new users access without admin approval due to GDPR regulation.
Please note that the ATS as a collaborative tool share all information (comments, emails, candidate evaluations) to any member who follow the job offers.
3 - Invite your members to join your ATS
🔒 To add members on the ATS, you should have the admin status.
Last but not least, once you listed all your members that could interact with the ATS at some point, you can create your team members access.
To create members, click on Settings > click on Members > click on the Yellow button "New Member" > Fill-in the needed informations, and select the role of your choice.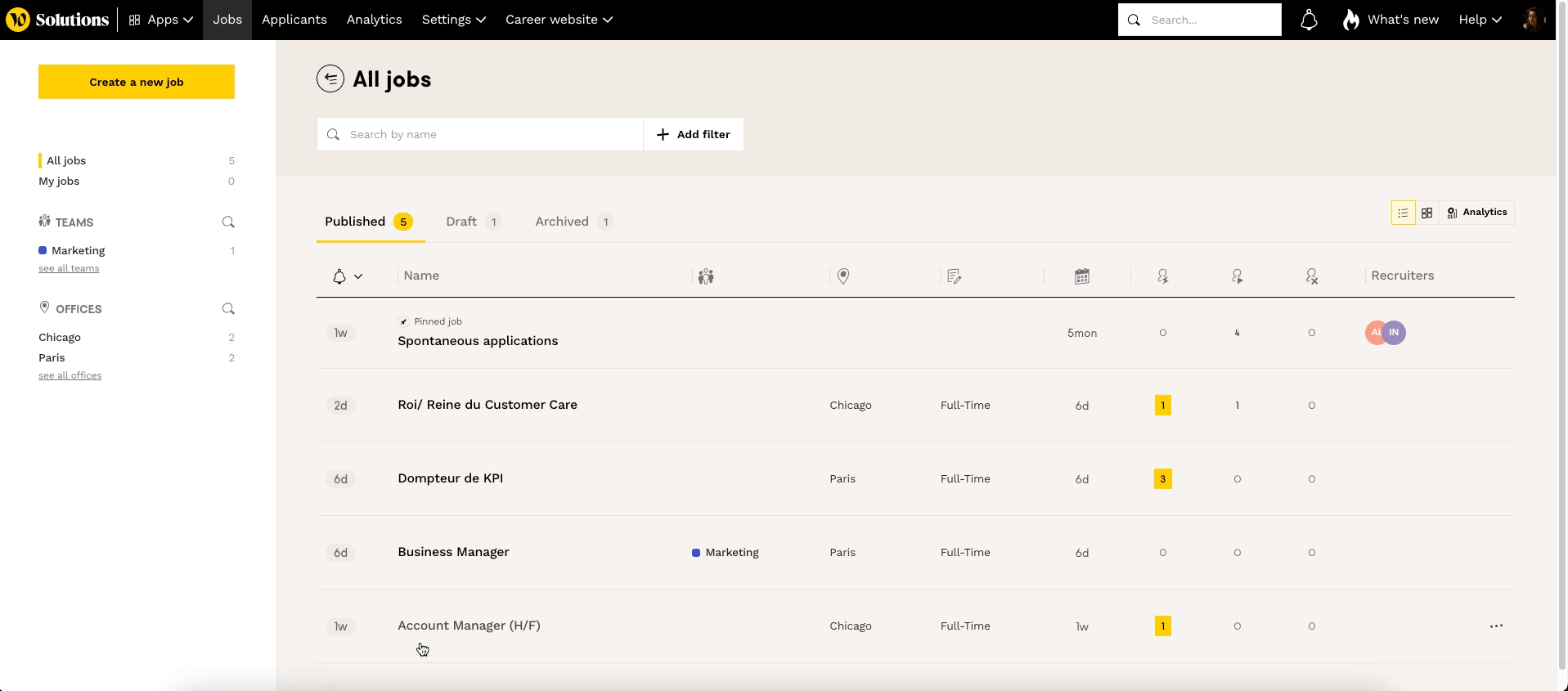 When you create a new member, they receive the following invitation email to create their account and set a password.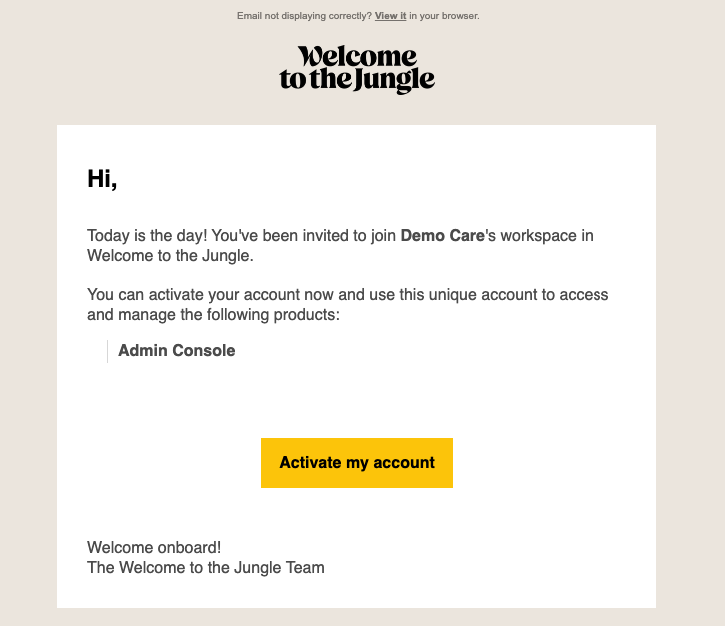 🎉 Congratulations - You've completed the admin setup!
🆘 If you have any further questions, you can contact us on the support widget at the bottom right!
Next ⏩ Our advice to build your recruiting strategy