Sign the Data Processing Agreement (DPA) 🖋️
This article will guide through the legal setup of Welcome Kit.
As you may know, since 2018, GDPR regulation is everywhere, and a sine qua non condition of use for many tools... Welcome Kit as an Applicant Tracking System dealing with sensitive data is of course concerned by this regulation.
Read and Sign the DPA
In order start setup, you first need to accept Welcome Kit Data Processing Agreement, by clicking on the lower banner visible on first login.
The DPA explains how Welcome Kit processes applicant personal data on behalf of data controllers (you, the recruiter). It states that data processing carried out by Welcome Kit as data processor is in line with the requirements of the GDPR, which came into force on 25 May 2018.
It aims to secure relations between the data controller (you) and data processor (us) by contractually clarifying the respective obligations of each party regarding the processing of personal data.
🔒 To sign the DPA, you need to be connected on Welcome Kit, and have the admin status.
Until the DPA is signed by an admin, the banner will remain visible on Welcome Kit.
To go through, click See Documents in the notification banner at the bottom of your Welcome Kit dashboard.
Once you've taken the time to read the implication of the DPA click Read and Accept yellow button.
As a confirmation of your will, you need to acknowledge and tick the two boxes at the end of the document and click Accept.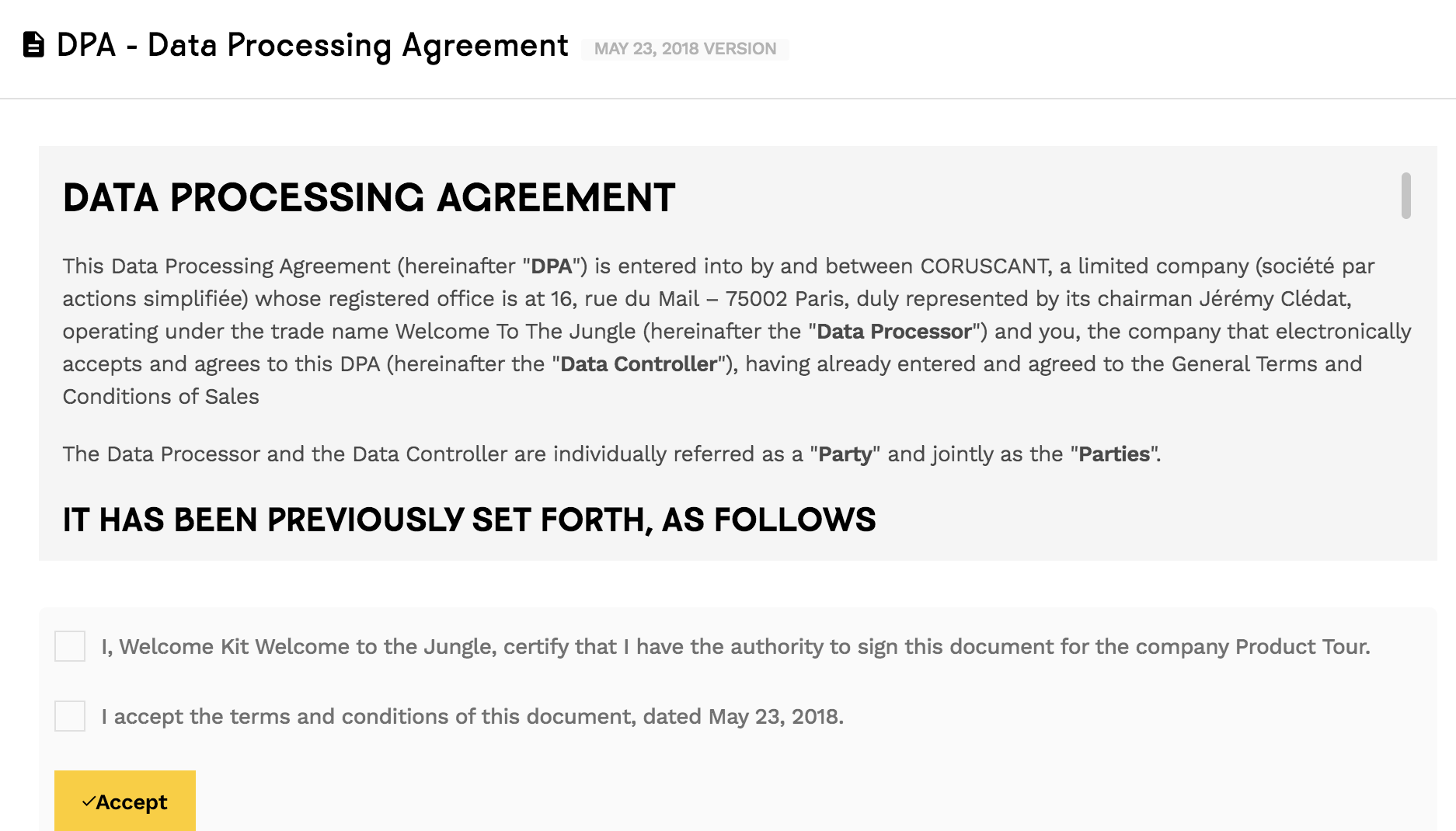 The DPA will always remain accessible in your Welcome Kit settings with all legal and compliance documentation related to GDPR issues.
To access Legal & Compliance documentation in Welcome Kit: Click on your company logo to access Settings menu > Select Legal & Compliance
⛔ Should any changes be made to the DPA, you will be notify within Welcome Kit and your approval will be sought again.
If your legal department needs it, you may forward Welcome Kit complete GDPR documentation from our help center: access GDPR documentation here.